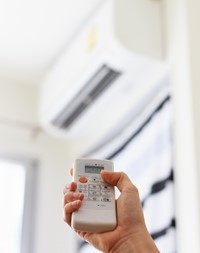 The American home is rapidly changing. New technologies like rooftop solar and smart home security systems are quickly becoming the norm in neighborhoods across the country.
If you're thinking of taking on some new home improvement projects, it's a good idea to be forward-thinking and choose projects that will be sought after into the future.
In this article, we'll talk about some trending home improvements you can make that will help bring your home into the future.
Automation
Smart home technologies make life easier, and they're not going out of style anytime soon. Being able to lock and unlock doors, adjust the temperature, and turn off lights all from an app on your phone has never been easier. If you plan on selling your home in the coming years, having these perks could be a selling point for potential buyers.
Green energy
When it comes to energy prices, you can count on them continuing to rise. As a result, many homeowners have installed money-saving features like rooftop solar, connecting to off-site green energy grids (such as solar or wind), and utilizing less expensive heating alternatives like pellet stoves.
Energy-efficient appliances are another up-and-coming trend that buyers are likely to be looking for. They tend to come with the latest technologies and styles, but also save money in the process.
You don't have to take on a big project to make your home greener. You can also perform small tasks like replacing all of your light bulbs with newer, energy-efficient bulbs.
These projects will attract two types of buyers: those who are environmentally-minded, and those who are looking to save on utilities.
In-duct purifiers
As people become more concerned with the effects of pollution on the human body, many homeowners will see air purifiers as a necessity. An in-duct purifier requires little maintenance and improves air quality throughout your entire house.
Temperature-controlled shower head
You would think that in this time of amazing scientific and technological advancements that we would be able to get into the shower without fiddling with the controls for ten minutes. With a temperature controlled, digital display shower head, you can set the temperature and let the faucet do the work for you.
This one will save you time in the shower, help you avoid getting scorched, and will pique the interest of potential future buyers.
Materials that last
Home advancements haven't just been made in the area of electronics. New building materials have made some objects last much longer than they did just a few years ago.
New roofing materials have exponentially increased the lifespan of roofs. New metal roofs can be made to look like traditional shingled or tiled roofs. Similarly, there are currently roofs being developed that have hidden solar panels built-in. Those too will be available in different traditional styles.
Aside from roofs, siding and decks are also being made with materials that last much longer than was previously possible. Having a durable house is something that any potential homebuyer would want to see.